Minnesota Cottage Food Law has Changed….
updated 08/16/2021
The 2021 legislative session brought with it some new and improved changes to the cottage food law. These changes became law on August 1, 2021. Please take the time to read the new law and see how it applies to you. You can find the updated law here:  MN Statute Sec. 28A.152  **Please note that at the top of the section for 28A.152 that there is a link for the 2021 changes. You will need to select this link to see the changes**
The changes include:
Increased income potential
Allows for you to structure your business as an LLC
Cat and dog pet treats are allowed
New labeling requirements
For guidance on the cottage food registration process: MN Department of Agriculture – Cottage Food Guidance
---
updated 06/01/2021
The new and improved Minnesota Cottage Food Law is effective August 1, 2021. There will be more information to come…stay tuned.
---
updated 05/25/2021
Minnesota Cottage Food Producers Governor Walz Signed SF958
Governor Walz approved & signed SF 958 which will revise Chapter 28 and improve the law for all cottage food producers in Minnesota. These changes to the law will take effect this summer in July or August…watch our website for more information.
updated 05/18/2021
Congratulations Minnesota Cottage Food Producers… We did it!!!
Now, all we need is the Governor's signature. Fingers crossed this will happen soon! On a side note, if you happen to see that your representative voted against this it wasn't because of cottage foods. There were other things that weren't agreed on. That's one of the downfalls of an omnibus bill. Here is the final language: SF 958 – You will need to scroll through the bill to find the cottage food and pet treat language. Happy Reading!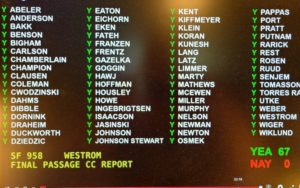 ---
The 2020-2021 legislative session is in full swing and most of our bills have numbers! On the MN Senate side SF1254 and SF1610 & on the MN House of Representatives side HF1430 and (TBA). Please keep an eye on these bills, as the language can change as the session moves along. You can also follow these bills at: Senate Bills and House Bills
Additionally, please make sure you reach out to your legislators and ask them to support these bills by voting yes and signing onto the bill as an author. You can click on the following link to find out who represents you at the Minnesota State Capitol: Who represents me?
Note: The next committee hearings are:
MN House of Representatives – Agriculture Finance and Policy — Monday, March 8th at 1pm
MN Senate – Agriculture and Rural Development Finance and Policy — Wednesday, March 10th at 3pm
---
Calling All Minnesota Cottage Food Producers: Legislation to increase revenue, allow business structures, add pet treats, & codify labels…
updated 01/25/2021
The 2020-2021 legislative session is upon us and in order to reform the current Minnesota cottage food law we are asking Minnesota cottage food producers to review the proposed legislation and think of how changing the current law will benefit your business. Additionally, it is important that cottage food producers know who represents them at the state level. If you are unsure,  you can locate this information by using the following link: My Local State Representatives
In the weeks to come, MNCFPA will be contacting all Minnesota cottage food producers via email and phone requesting a call to action. The call to action will consist of having cottage food producers contact their district Senator, Representative, and committee members asking for their support on the proposed legislation. Please stay tuned for more information to be posted on the call to action which will include sample letters, the legislation bill numbers in both the Senate and House, and other information.
Please familiarize yourself with the proposed legislation while we wait to receive the bills back from the Revisor's Office and reach out with any questions that you may have. The following link will open a document with information on the changes: Reform MN Cottage Food Law
---
Moving Into the 2020-2021 Legislative Session – Your Voice Matters:
updated 12/04/2020
With 2020 coming to a close and 2021 quickly approaching it is time to gear up in-order to make positive changes to the Minnesota cottage food laws. MNCFPA, Institute for Justice, MFMA along with others have been hard at work all year getting ready for the upcoming session. We are needing and asking for cottage food producers to get involved. You are a stakeholder and your voice matters!
Our objective for this session is to change the current cottage food law to allow CFP's to earn a livable wage by increasing the revenue cap, expand the cottage food exemption to include non-potentially hazardous pet treats, and convince MDA to change their policy disallowing CFP's from forming as an LLC.  In order to make sure our voices are heard, MNCFPA will be hosting coalition meetings between the hours of 4-7 on Wednesday, December 9th and from 9-11 am on Thursday, December 10th. These meetings will be held via Zoom (there will be an option to call in too). These informational meetings will be about 30 minutes and will not commit you to anything.  If you are interested in attending a meeting please email: jcarriveau@mncfpa.org
Check out the following link for more information on getting involved: Getting Involved in the Legislative Process
---
The Coalition to Reform MN Cottage Food Law is working for CFPs, and we need your help to make positive changes for everyone…
updated 11/08/2020
The election is behind us and the 2020-2021 legislative session will be here before we know it. If you are interested in strengthening the cottage food law here in MN please contact one of the board members. Additionally, keep an eye on this page for updates.
updated 08/27/2020
The Minnesota Cottage Food Association is working on legislation that will help cottage food producers earn more income to grow their businesses, allow the sale of pet treats, and change MDA's policy of disallowing CFPs from filing their business as an LLC with the MN Secretary of State's Office. In order to accomplish this, we need your help! We will be hosting
meetings
for cottage food producers to discuss the legislation and provide input. Each
meeting
will provide an overview of the bills, information about how you can get involved in our legislative effort, and updates as to where we are in the process. We know that everyone is busy and want to stress that this is not a full time job. We encourage anyone with any interest at all to join and decide how involved you want to be. There are links below to join the coalition or to ask for more information. We look forward to any questions, comments, or suggestions you may have and hope you decide to support reforming the current MN cottage food laws to strengthen the cottage food industry in Minnesota. 
---
Minnesota's Cottage Food Laws to Increase Income Potential in 2020-2021
Update: 08/15/2020
Unfortunately, the legislative session was interrupted by the COVID-19 and we were unable finish our work at the Capitol. That being said, we are not giving up and are in the process of organizing our efforts for 2020-2021. Our focus will continue to be on adding pet treats (cat and dog) to the cottage food law, increasing the revenue cap, and allowing for individuals to structure their business as an LLC. The legislation from last year can be found at the bottom of this page.
If you would like to become involved please contact us https://www.mncfpa.org/215-2/  Also, please visit our events calendar (located on our home page) as we will be updating and adding events for you to become involved.
---
2019-2020 Minnesota Legislative Session
We are currently working on amending the current cottage law. We are focusing on adding pet treats (cat and dog) to the cottage food law, increasing the revenue cap, and allowing for individuals to structure their business as an LLC. Here are the links to the current proposed legislation:
https://www.revisor.mn.gov/bills/text.php?number=SF3450&version=0&session=ls91&session_year=2020&session_number=0
https://www.revisor.mn.gov/bills/text.php?number=SF3445&version=latest&session=ls91&session_year=2020&session_number=0